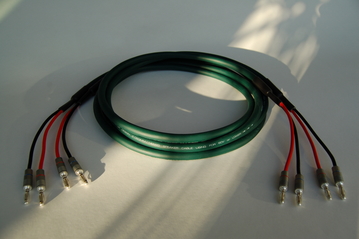 We are now supplying the super value Neotech Ultra-Pure Oxygen Free Copper loudspeaker cables, both off the reel (by the meter), or made up with either Banana or Spade terminations to your required length. Neotech high end audio cables have a long and highly praised history, they are justifyably famous for their UP-OCC 'single crystal' cables, being the first and one of only three Companies to manufacture these high end 'single crystal' cables.
Not so well known are their range of UP-OFC cables that we are now supplying into the UK, as the Authorised Neotech Dealer. The UP-OFC cable from Neotech is super value for money, the sound quality is very high indeed, we would be surprised if there is another commercially avaIable cable at twice, perhaps three times the price (and we have tried many) that will offer so much clarity and detail in such an ordered and musical way.
Take a look at the Neotech 5001 and 5002 ranges, you will be surprised at the prices! We offer a 14 day money back guarentee on 2 and 2.5Mtr. pr. cables with Xhadow silver plated Banana plugs fitted.