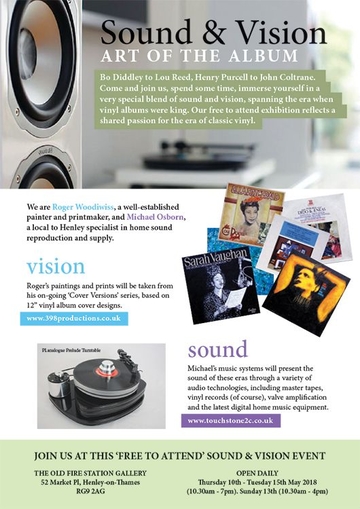 Come and join us at the Old Fire Station Gallery, Henley-on-Thames where we will be playing three home audio systems, spanning the era of classic vinyl which is now having such a revival. We will be demonstrating Hi-Fi products that reference different eras, from the 50's up to the latest audio technology. All products that are available through Touchstone 2c.
System 1: 50's/60's sound, valve amplification and horn speakers, Turntable and Reel to Reel Master Tapes.
System 2: 70's/80's a classic vinyl turntable set up, Class A/B amplifier, BBC developed stand mounted speakers.
System 3: The sound of NOW - all in one box music streaming system, with added turntable and high tec. stand mounted speakers.
Enjoy the vinyl music from all eras, whilst looking at paintings that reference the Art of the Album, by Roger Woodiwiss, an established Artist and Printmaker.
The Old Fire Station Gallery
52 Market Place, Henley-on-Thames, RG9 2AG
10th – 15th May 2018 10.30 am – 7pm (Sun. 13th 10.30am - 4pm)